Full or partial tooth loss, if left untreated, doesn't just affect a person's self-image — it can also increase the risk of developing nutritional problems and other systemic health disorders. If you have lost any of your teeth, you no doubt realize there are consequences to living without them: Your smile may not look the way you want it to; eating, speaking and intimacy may be more difficult; and your self-confidence may fade. Though serious, these are not the only impacts. There are hidden consequences of losing teeth that affect not only your appearance but also your health.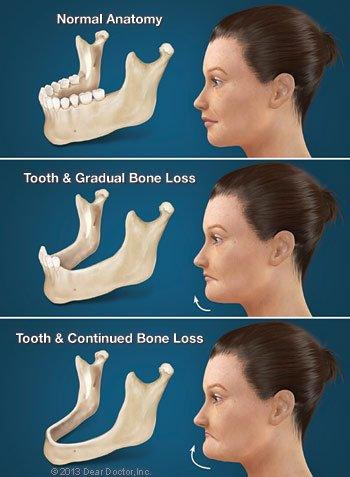 Importantly, a loss of jawbone inevitably follows tooth loss. Bone needs stimulation to maintain its form and density. In the case of the jawbone, that stimulation comes from the teeth, which make hundreds of fleeting contacts with each other throughout the day. The small stresses produced by these contacts are transmitted to the bone, prompting it to regenerate constantly. When a tooth is lost, the stimulation it provided disappears. In just the first year of tooth loss, there is a 25% decrease in bone width. This is followed over the next few years by an overall 4 millimeters decrease in height. If enough teeth are lost, and as bone loss continues, the distance from nose to chin can decrease and the lower third of the face partially collapses. With a lack of structural support, the lips sag; that's why toothless people often appear unhappy. Also, extreme loss of bone can make an individual more prone to jaw fractures.
You may also find that some of your remaining teeth actually shift into the spaces left open by your missing teeth. This in turn can cause additional bite problems and even jaw joint (TMJ) pain. Finally, compromised nutrition and poor general health can result if eating healthy foods like raw fruits and vegetables becomes too difficult without teeth.
Now here's the good news: Dental implants — the state-of-the-art tooth-replacement method preferred by dentists — can prevent all this.
There are also several varieties of dentures available to address specific issues, from partial dentures to implant-supported overdentures, all-on-4 (implant fixed dentures) and implant bridges. The best option for you will depend on your individual situation.
At first, wearing dentures may require some getting used to in terms of talking and eating, as the dentures become "balanced" in the space formerly occupied by the teeth. But over time, the muscles, nerves and ligaments of the mouth learn to work in new ways, which allows these functions to occur normally. Dentures also help support the facial skeleton and the soft tissues of the lips and cheeks, which can help create a more youthful appearance.
How Dentures Are Made and Fitted
Making quality dentures is a blend of science and art. First, an accurate impression (mold) is made of the alveolar ridges on the top and bottom of your mouth. The base of the denture is made from this mold in a dental laboratory. Working together, the dentist and lab technician choose from among many different sizes and shapes of prosthetic teeth to re-create a natural-looking smile. When everyone is satisfied with the result, the temporary dentures are made in permanent form.
To enable normal speech and eating, it's crucial to balance your bite. This means that the upper and lower dentures come together and properly stabilize each other. The form and function of the dentures are carefully checked to ensure that they are working and fitting properly.
What to Expect After You Get Dentures
If you've recently lost your teeth and received an immediate denture, it's normal to find some tissue shrinkage and bone loss occurring. Therefore, in several months you will find that your immediate dentures no longer fit well. That is why you need final dentures or implant options after the initial healing phase. With proper care, dentures offer a functional, aesthetic and economical solution to the problem of tooth loss.
How Dental Implants Prevent Bone Loss
Besides helping a person without teeth look and feel great again, dental implants actually prevent bone loss. That's because they are made of titanium, which has a unique ability to fuse to living bone. By actually becoming a permanent part of the jawbone, dental implants stabilize and stimulate the bone to maintain its volume and density.
Dental implants are placed during a minor surgical procedure using local anesthetic and then, after a healing period, topped with a lifelike dental crown. Together, these precision components look, feel and function exactly like your natural teeth. Dental implant success rates exceed 95% — the highest of any tooth-replacement option.
Schedule an appointment with us at Origins Specialty Dentistry! Our dentists and implant specialists would be able to review all your available options after their clinical examination. Call us at (210) 460-0749 for more info!